Productivity platform for modern teams
Amplify team success.
Cadrelo is an intuitive team platform that maximizes productivity, creates healthier work patterns, and empowers your team to collaborate at lightning speed.
Boost team output with Cadrelo
Improve your organization's value creation, transform the way your people work, and achieve better outcomes with Cadrelo.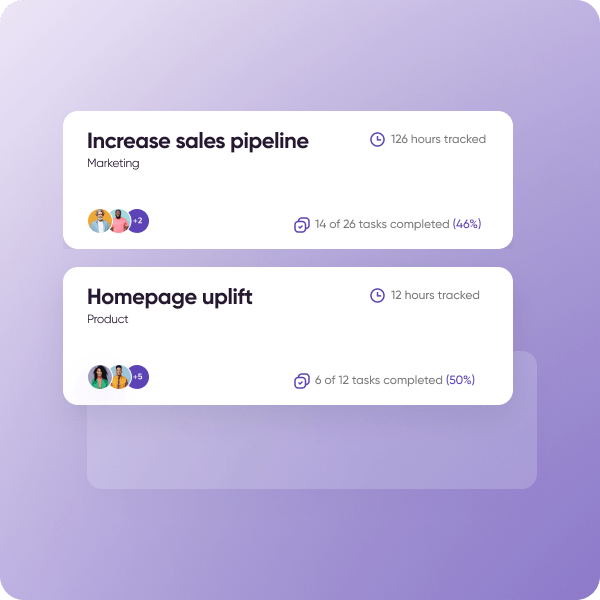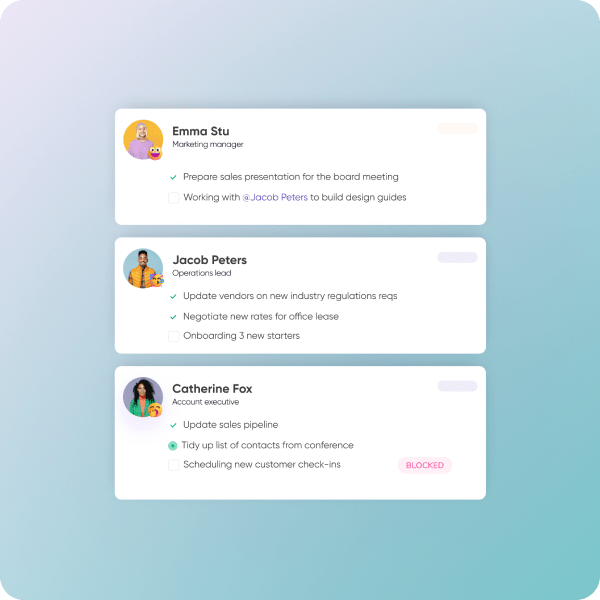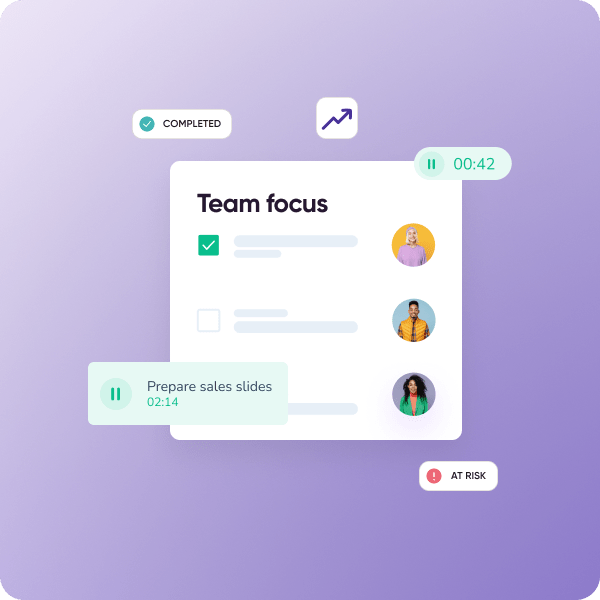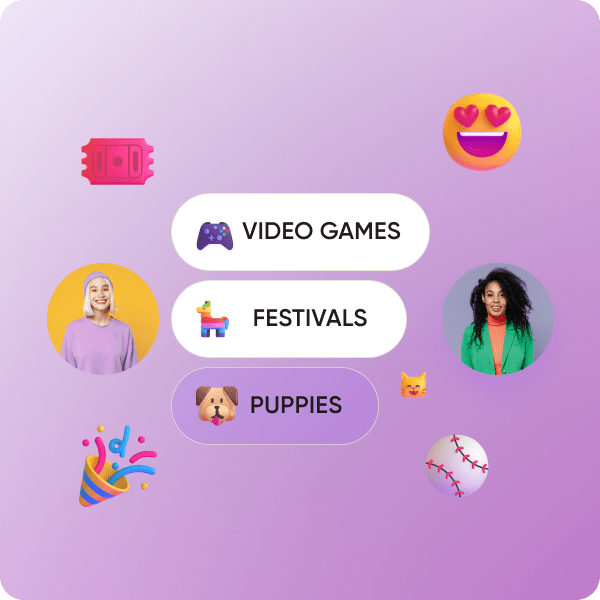 Everything that
your team needs
Cadrelo is a goal-centric platform that empowers teams to achieve meaningful outcomes by providing simplicity, flexibility, and seamless progress tracking.
Align on success
Foster transparency, collaboration, and collective responsibility, keeping the team on track to achieve their objectives.
Focus on outcome
Prioritize goals as the driving force behind team success to allow teams to define clear objectives, identify key results.
Understand progression
Tasks are directly tied to overarching goals, providing visibility on how individual contributions align with the bigger picture.
Flexibility and ease of use
Designed with flexibility and simplicity in mind, making it easy for teams to transition from spreadsheets or other tools. Our user-friendly interface adds structure and automation, supporting effective weekly rituals.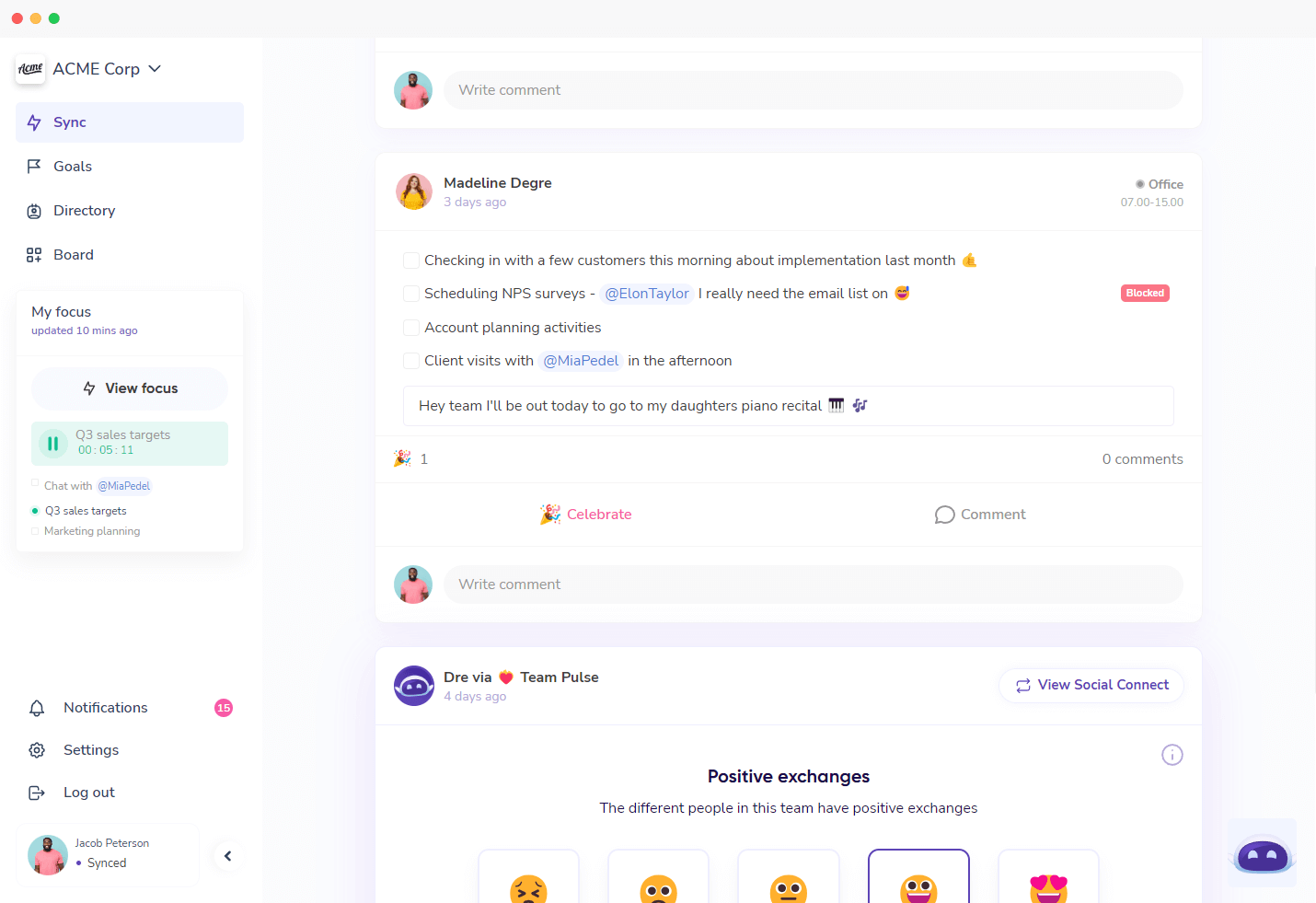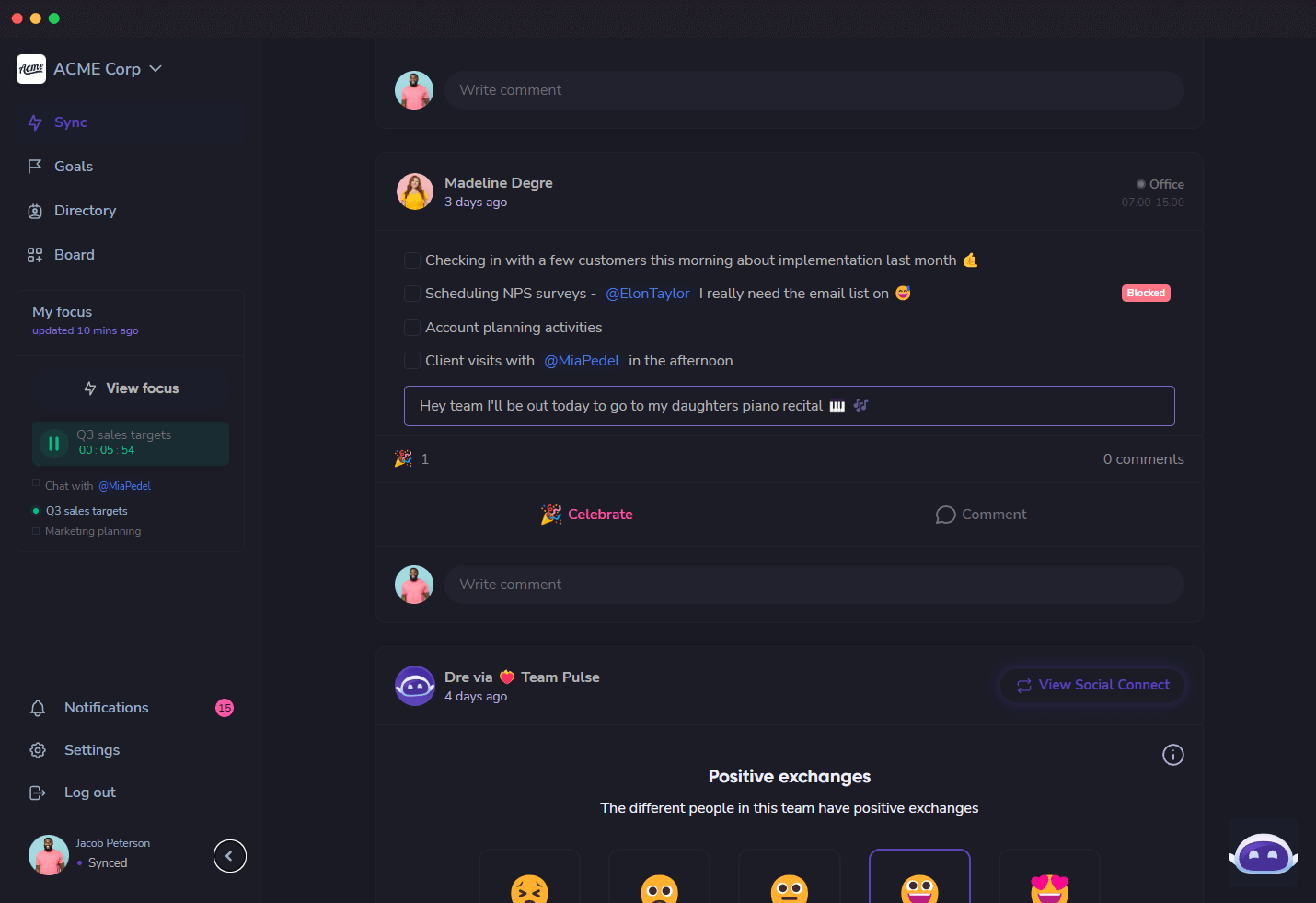 Streamline operations
Built for teams who want to work smarter, not harder by maximizing productivity, enabling healthier work patterns, and empowering your team to collaborate at lightning speed. Cadrelo makes it happen with:
Bye, bye silos
Transparency and alignment across teams and individuals. No more mixed messages and missed deadlines.
Kill status meetings
Replace endless meetings and use async stand-ups as a way to focus the team on things that matter.
Modern collaboration
Complete transparency of direction and progress, so everyone is part of the bigger picture.
Outcome focused
Goal orientated working that isn't about presenteeism, but focused on working with purpose on tasks that matter.
No BS complexity
Simple and intuitive experience that differs from typical project management and communication tools.
Living strategy
Your business plan outside of PowerPoint, where others can contribute and bring it to life.
Cadrelo benefits the whole operation
Below is a list of key benefits that Cadrelo offers for individuals and businesses
For individuals
Amplify your productivity, effortlessly plan your day, streamline tasks and boost personal effectiveness
Collaborate seamlessly with your team members, share updates, and work on a unified platform that stops the time-zone dance
Easily track progress and effort you're putting into projects and tasks and feel a sense of accomplishment
Reduce email clutter and endless chat threads with a centralised hub that contains all your tasks, goal progress and team updates
Connect with colleagues at a personal level
Manage your workload in a very simple and intuitive flow that can be customised to your working style
Businesses
Kill costly status meetings that tie up your top talent and free them up for high-impact tasks.
Ditch multiple tools and embrace a unified, intuitive experience that cuts costs and boosts team productivity
Keep your finger on the pulse with real-time progress insights and team achievement of their goals
Align every person towards your north star and create a unified vision
Easily track efforts for precise resource allocation or to leverage tax benefits
Celebrate wins and create an inclusive experience where achievements are shared and celebrated, promoting a sense of belonging and camaraderie
Get started with Cadrelo today
Cadrelo makes it easy for teams to collaborate and manage their daily work. It helps teams manage daily communication, both async and real-time, helping them stay aligned and on track no matter where they are.
Start with Cadrelo today and see the difference it can make for your hybrid team!
FAQs
Here you can find some of our frequently asked questions. Got a question? Please get in touch.
What does "Cadrelo" mean?
Cadrelo is a derivative of the word cadre
cad·​re – noun
a small group of people specially trained for a particular purpose or profession – "a cadre of professional managers"
We always knew we wanted to build a platform that supported a group of people achieve incredible things and so that's how the name came about.
How much does Cadrelo cost?
Cadrelo is free to use for small teams with 5 or less people! Our team plan unlocks additional features like time tracking, while also allowing unlimited team members. We allow every team to test out the team plan features with a 14 day trial. No contracts or credit cards needed. Read more about our plans and pricing.
What is an outcome-focused approach?
"Outcome-focused approaches" means putting results first. Instead of just looking at the steps taken, these approaches care about the final results. For instance, in customer service, it's about making customers happy, not just counting calls or response speed. This change encourages a customer-centered mindset where employees strive to achieve the best results.
The key benefits of outcome-focused approaches for teams include:
Clarity: Teams understand priorities and where to direct efforts.
Motivation: Employees become more engaged when they see the impact of their work.
Flexibility: Creativity is encouraged, allowing for innovative problem-solving.
Efficiency: Streamlined processes and better resource allocation.
Customer-Centric: Efforts align with customer needs, improving satisfaction.
Innovation: Emphasis on outcomes drives new ideas and solutions.
Adaptability: Strategies can be adjusted easily to changing circumstances.
Accountability: Clear measures of success foster accountability.
Collaboration: Common goals unite teams and promote collaboration.
Long-Term Vision: Focus extends beyond immediate tasks for lasting success.
In essence, outcome-focused approaches provide teams with direction, motivation, flexibility, efficiency, and a customer-centered mindset, fostering innovation, collaboration, and accountability while ensuring adaptability and long-term growth.
Could I use Cadrelo to manage outsourced staff or teams?
Cadrelo is all about making teamwork smoother. It helps you set clear goals, manage tasks, and collaborate effortlessly. When it comes to managing outsourced staff or teams, Cadrelo is a game-changer. You can create goals that everyone understands, track tasks easily, and keep communication open. This means outsourced teams can stay aligned with your main team, see what's happening, and work together seamlessly. It's like having a virtual HQ for all your team members, no matter where they are.
Is Cadrelo suitable for remote, hybrid or in-office teams?
Cadrelo is the go-to solution for effectively managing remote and outsourced teams. It acts as a virtual collaboration hub, bridging geographical gaps and ensuring seamless communication. One of its standout features is automatic time-zone calculations, making it effortless to schedule discussions and tasks across different regions. Cadrelo promotes asynchronous work, giving team members the flexibility to plan tasks thoughtfully and collaborate effectively, regardless of their time zone. With a centralized platform, Cadrelo prevents vital information from getting lost in the shuffle of communication, guaranteeing that everything remains organized, transparent, and easily accessible.
I already use Asana, Jira, Click-up why should I use Cadrelo?
Hey, that's fantastic! 🚀 It's awesome that you use project frameworks – we're definitely on the same wavelength. And those tools you mentioned? They're really solid choices, so we're thrilled to be in the same conversation.
While Asana, Jira, and ClickUp are well-known picks for managing projects and working together, Cadrelo brings a fresh perspective that stands out:
Simplicity and focus: Cadrelo is all about keeping things simple. We've created an easy-to-use interface that's super intuitive, which means your team won't face a steep learning curve. We're here to make goal setting, task management, and collaboration a breeze, without overwhelming you with complicated features.
Operational transparency: We're big on transparency. With Cadrelo, you get a crystal-clear view of goals, tasks, and progress without needing complex settings or custom reports. This transparency boosts alignment and teamwork, helping everyone stay on the same page.
Collaboration hub: Think of Cadrelo as your virtual collaboration hub. It's perfect for keeping the communication flowing smoothly among team members, especially if you've got folks working remotely or from different places. And yeah, we even handle time zones automatically to make scheduling a piece of cake.
Flexibility in work: Cadrelo gets the importance of flexible work. You can work asynchronously at your own pace while still collaborating effectively. This is a game-changer, especially when your team spans different time zones.
Cost-Effective: Cadrelo rolls task management, goal setting, and collaboration into one neat package. Imagine Jira, Trello, Toggle, and an engaging platform having a baby. We deliver incredible value at just $5 per user per month, and as we grow, we'll only get better.
While your current tools do their job well, Cadrelo offers a unique spin that might better match your team's style. It's worth considering if you're after a simplified yet effective platform that brings transparency, teamwork, and smart project management to the table. Plus, we can easily sit on top of more complex platforms, making sure everyone, from your senior stakeholders to the whole organization, knows exactly where things stand.
How does Cadrelo support goal and task management?
Cadrelo provides comprehensive support for both task management and goal setting. We differ in the way that we try to make it dead simple!
When it comes to task management, Cadrelo offers an intuitive platform where tasks can be easily created, assigned, and tracked. Team members can seamlessly pick up tasks, incorporate them into their daily focus, and collaborate efficiently through the platform's Daily Sync feature. This helps streamline communication and ensures that everyone stays on top of their tasks without the need for extensive meetings or confusing email chains.
As for goal setting, Cadrelo simplifies the process by making goals accessible to all team members. No more buried goals in PowerPoint presentations or spreadsheets. Instead, team goals are transparently available, fostering a sense of direction and shared purpose. Creating goals is straightforward, and tasks can be added effortlessly. Tasks can be assigned to specific team members or left unassigned, allowing for flexible task allocation. This promotes clarity and ensures that everyone understands their role in achieving the broader team objectives.
In a nutshell, Cadrelo's user-friendly interface and features cater to efficient task management and transparent goal setting, promoting collaboration and productivity within teams.
Can I track time spent on tasks?
Cadrelo makes tracking time on tasks a breeze. With a straightforward interface, you can easily start and stop timers as you work on tasks. This feature enables you to accurately monitor the time spent on each task, helping you gauge efficiency, manage workloads, and streamline project timelines effectively.
Our time tracking doesn't stop at the task level – it's designed to aggregate and feed up to the goal level. This means that the time you track for individual tasks seamlessly rolls up to provide a clear overview of time allocation and progress for the entire goal. It's a powerful tool for gaining insights into resource utilization, project pacing, and overall goal achievement.
Do you integrate with other tools like Jira or Slack?
Yes, Cadrelo offers integrations with both Slack and Jira to enhance your team's workflow. Through simple Slack updates, Cadrelo pulls your team in and keeps everyone connected. Additionally, the integration with Jira streamlines your team's process by allowing them to easily refer to Jira items during their daily sync. We understand the challenge of navigating multiple apps for a simple daily stand-up, which is precisely why Cadrelo's daily syncs step in to simplify and streamline your team's communication.