for modern teams
Hybrid teams that are connected
Run hybrid teams where distance and location play no factor. Cadrelo's daily sync keeps your team across goals and tasks with a simple daily ritual.
Bring everyone on the same page
Build connection
Understand team health
Create a culture of recognition and collaboration
Modern platform for modern teams
Elevate team collaboration, no matter where they are! Streamline communication, celebrate achievements, participate in team-building, and stay focused on your goals. Keep everyone informed and effective – try it out now!
Try Cadrelo today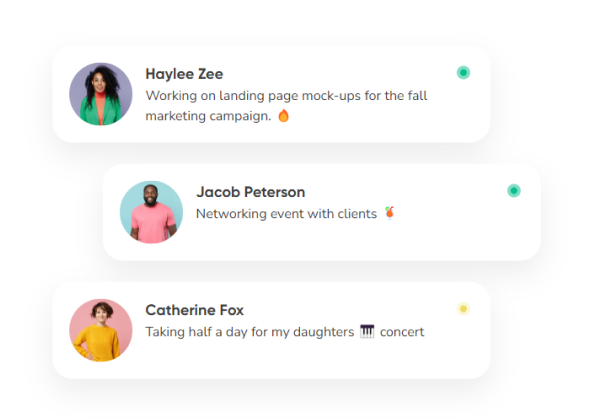 Unite hybrid, in-office or remote teams
Cadrelo brings everything you need together in one convenient space. It provides individual action items, team goals, and integrations with other tools, all in a simple, intuitive interface. With Cadrelo, you can easily access the information you need, when you need it, and work connected. And the best part? It's tailored to fit everyone's individual schedule.
Nurture modern team dynamics
Get your team talking with our engaging conversations, supported by bite-sized content and guided interactions! Keep everyone connected and involved, and watch your team thrive.
Get your team on Cadrelo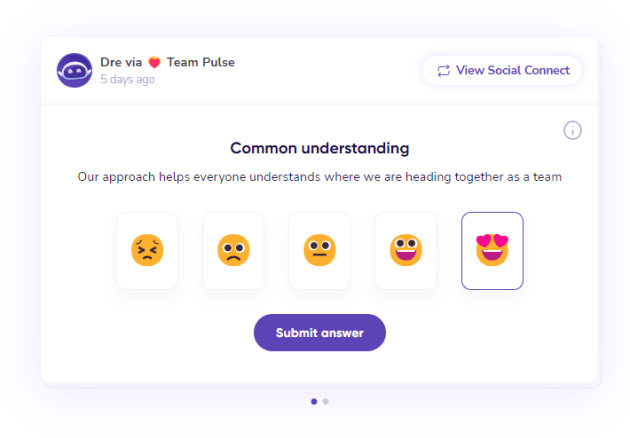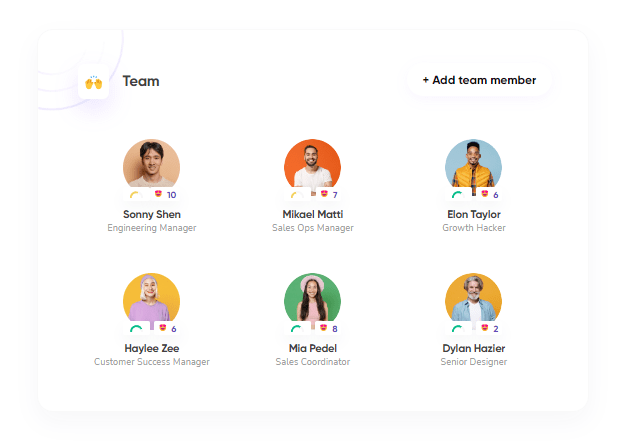 Build connections
Bring your team together, no matter the timezone. Our team-building questions, daily mood updates, and pulse questions – help you foster a sense of community and strengthen your team's bond. These tools weave a tight-knit community, crucial for understanding the people behind the roles, especially with modern team configurations.
Create a culture of celebration and recognition
Celebrate your team's achievements and praise their efforts with our simple, intuitive interface! Comment, react, and share the love with your co-workers and watch your team thrive. Keep the positivity flowing and see the difference it can make for your team's engagement and success.
Start syncing now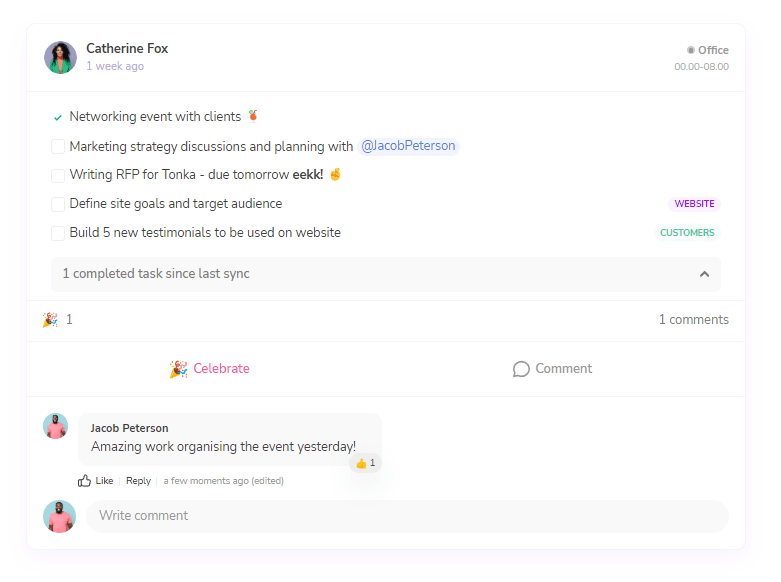 Everyone in the loop
Updating progress is a breeze. No more long status meetings. Everyone can understand progress in just minutes.

Part of the picture
Team members understand how they fit into the bigger picture, where they can contribute and how they can make a difference to shared goals.

Win as a team
Absolute transparency on what everyone in the company is working on makes it easy to shoutout great work and celebrate success together.

Align focus
Create a shared focus, engage everyone, and align them to move in the same direction with transparent goals.

Strategy in action
Take your strategy beyond powerpoints and spreadsheets. Allow teams to contribute and build success in real time.

Connect teams
Cadrelo unlocks the human side of teams to help them achieve anything, no matter how or where they choose to work.
Why hybrid teams use Cadrelo?
Cadrelo makes it easy for hybrid teams to collaborate and manage their daily work. It helps teams manage daily communication, both async and real-time, helping them stay aligned and on track no matter where they are. Try Cadrelo and see the difference it can make for your hybrid team!