for sales teams
Build effective,
aligned sales teams
Boost your sales team's success with Cadrelo! This powerful tool helps you create daily action items and sales goals. Build better rituals that foster accountability, collaboration, and drive.
Cut the noise and focus on what's important
Keep everyone focused and accountable
Bring your sales team together
Cut the noise and focus on what's important
Say goodbye to endless meetings and cluttered inboxes. Cadrelo brings everything your sales team needs to collaborate together in one convenient space. No more searching for those slide decks or proposal docs. Get the information you need, when you need it, and get more done with Cadrelo, today.
Filter down to the most important information
Focus on goals, specific teams or individuals
Zero in an link documents to specific goals so that everything has a home
Try Cadrelo now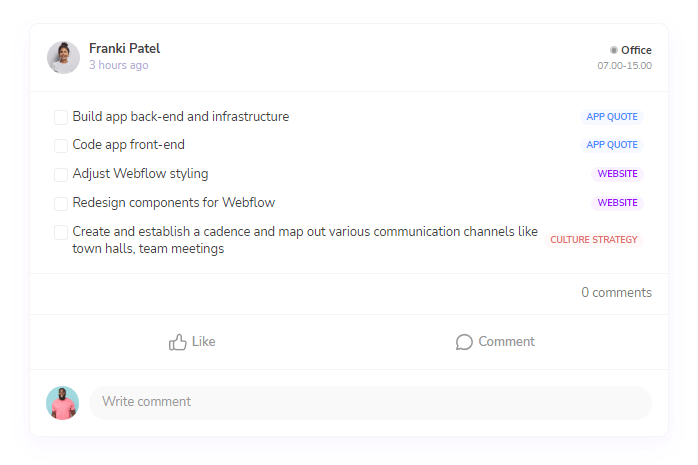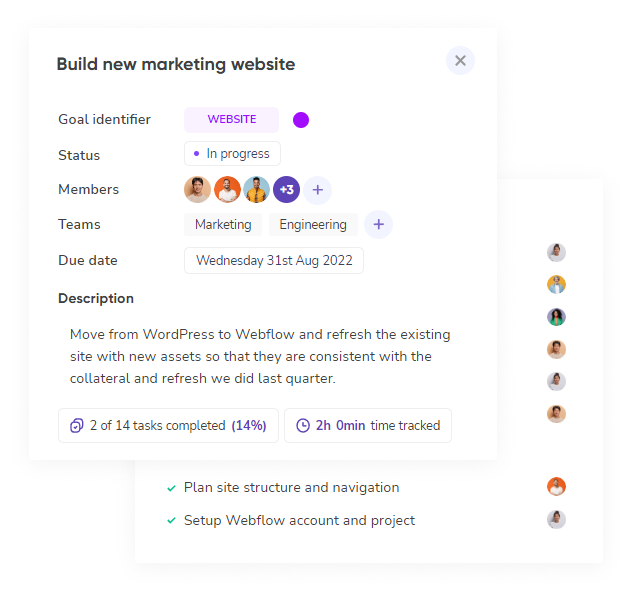 Keep everyone focused and accountable
A simple daily ritual. Track, plan and prioritize a set of commitments in a simple intuitive interface. Set high-level sales goals, assign actions, tag teammates, and request support. Automated archiving of completed tasks. Keep your entire team informed, on course, and respond swiftly to prospects, ensuring no delays.
Reporting that's inbuilt into a daily checklist that helps teams prioritise their work
You've probably got many lists across different notepads and products, Cadrelo brings all that together and helps the whole team understand what you're focusing on
Dre, your teams virtual conductor
Maximize your team's productivity, well-being, and performance with Dre! This powerful AI team member helps you summarize tasks, provide feedback, and build connections that go beyond work. Whether you're working async, remotely, or in the office, Dre has your back.
Start with Dre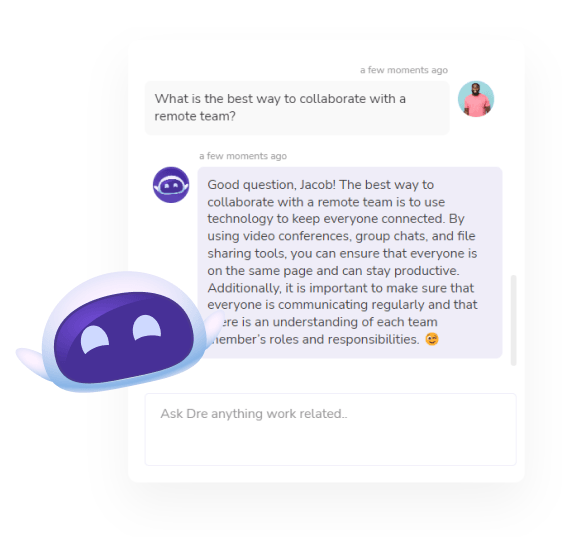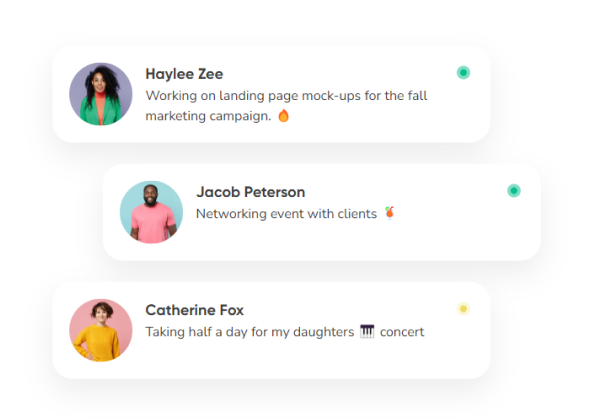 Bring your sales team together
Sales teams feed off the energy and the buzz. Bring your team together, no matter the time zone. Our team-building questions, daily mood updates, and pulse questions – help you foster a sense of community and strengthen your team's bond. Engaged sales teams create 20% more revenue, 21% increased profitability, 17% more productivity and account for 2.5 times the revenue than disconnected teams.

Everyone in the loop
Updating progress is a breeze. No more long status meetings. Everyone can understand progress in just minutes.

Part of the picture
Team members understand how they fit into the bigger picture, where they can contribute and how they can make a difference to shared goals.

Win as a team
Absolute transparency on what everyone in the company is working on makes it easy to shoutout great work and celebrate success together.

Align focus
Create a shared focus, engage everyone, and align them to move in the same direction with transparent goals.

Strategy in action
Take your strategy beyond powerpoints and spreadsheets. Allow teams to contribute and build success in real time.

Connect teams
Cadrelo unlocks the human side of teams to help them achieve anything, no matter how or where they choose to work.
Elevate your sales team's performance with Cadrelo
Cadrelo keeps your sales team productive and in sync, without taking time away from critical sales tasks. Say goodbye to cluttered inboxes and endless internal meetings – with Cadrelo, your sales team can work smarter, not harder.