for startups
Get your startup humming
Looking to take your startup to the next level? Look no further! Enterprise grade quality, without any of the complexity at startup friendly pricing! 
One tool to rule them all
Keep everyone focused and accountable
Bring your team together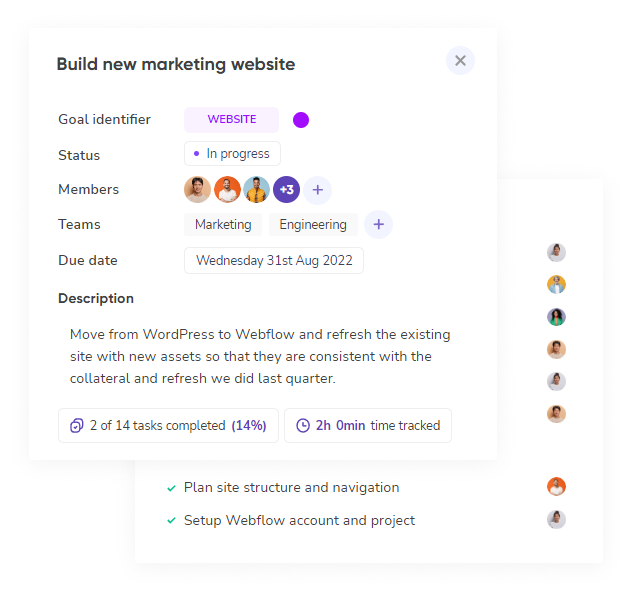 Everything your startup needs
All-in-one platform that has everything any startup needs to boost productivity, streamline your workflow, and save money. Plus, our automated time tracking means no more time sheeting headaches, and you can even recoup costs with tax benefits or R&D grants. Best of all, our flexible set of features scales with your startup as you grow – whether you're a small team or rapidly expanding.
Start with Cadrelo today
One tool to rule them all
Bring your vision to life and make collaboration and team management a breeze. Say goodbye to the headaches of multiple systems, complex workflows, or tedious admin work, and hello to streamlined communication and lightning-fast progress. Set visionary goals, and keep your team on track and focused. Streamline communication, give shoutouts, engage in team-building activities, and keep on track to crush your goals.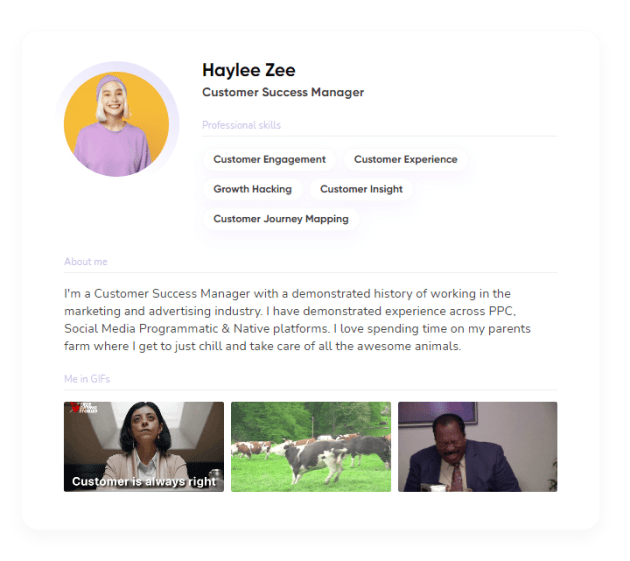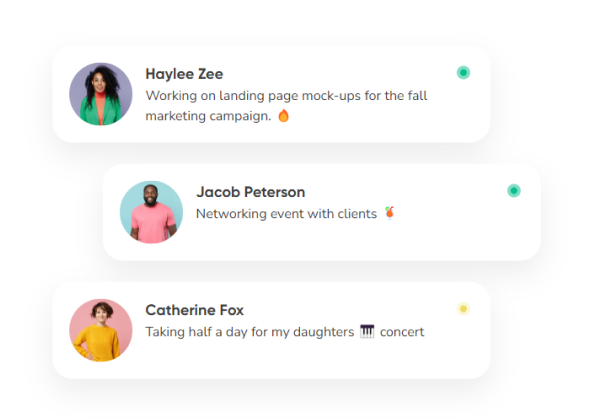 Bring everyone on the same page
Need some external assistance from contractors, freelancers, or offshore teams? A drop in drop out kind of workforce to suit your needs? Cadrelo brings everything you need together in one convenient space. Complete clarity on individual action items, team goals, and integrations to other tools all in a simple intuitive interface. Get the information you need, when you need it, and work connected with Cadrelo, today.
Start syncing now
Dre, your team guide
Dre helps your team make positive changes, one small action at a time! Based on evidence-based behavioral science, Dre's strategies can be scheduled or reactive, depending on what you're working on, your sentiment, and your progress. From self-care and well-being to productivity and growth, Dre has you covered.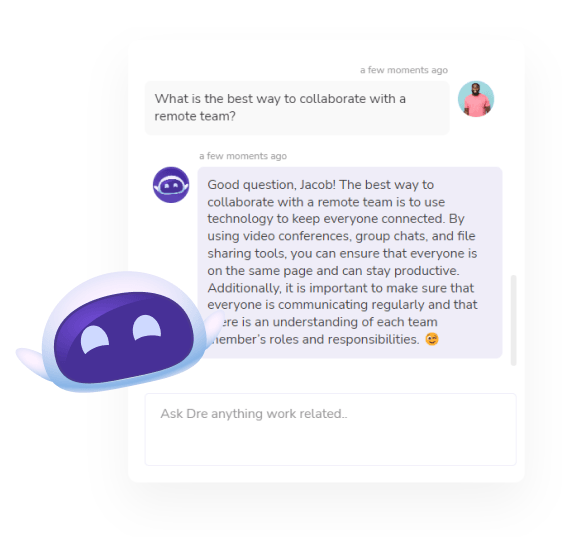 Everyone in the loop
Updating progress is a breeze. No more long status meetings. Everyone can understand progress in minutes.

Part of the picture
Team members understand how they fit into the bigger picture, where they can contribute and how they can make a difference to shared goals.

Win as a team
Absolute transparency on what everyone in the company is working on makes it easy to shoutout great work and celebrate success together.

Align focus
Create a shared focus, engage everyone, and align them to move in the same direction with transparent goals.

Strategy in action
Take your strategy beyond powerpoints and spreadsheets. Allow teams to contribute and build success in real time.

Connect teams
Cadrelo unlocks the human side of teams to help them achieve anything, no matter how or where they choose to work.
Why startups chose Cadrelo?
Cadrelo makes it easy for startups to collaborate and manage their daily work without complexity. Whether async or real-time, teams stay aligned and on track no matter where they are. External talent can join you on your mission, contribute, and truly feel part of the team. Try Cadrelo and see the difference it can make for your startup!